TVS Motors has a dedicated production line for the Nigerian market
with products made to last.
TVS HLX+ Kick Start
TVS HLX+ Electric Start
TVS KING DELUXE+
TVS XL 100
TVS APACHE
TVS KING DURAMAX
Below are some of the recent projects we have proudly undertaken,
as part of our goal to engage with communities at every level.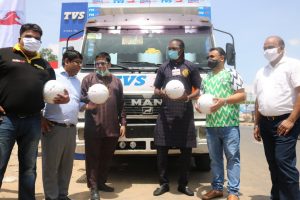 L-R: Sales Head Simba TVS, Amit Seth; Simba Group Head Marketing, Karthik Govindarajan; Nigerian football legend, Nwankwo Kanu; Business Head Simba TVS, Mahendra Pratap; and Service Head Simba TVS, Nitesh Kumar at the flag-off of
Read More »
Got a Burning Question to Ask?
Send us your message below